Welcome to Amazing Grace Lutheran Church of Grays Harbor, Aberdeen, WA
We seek to be a welcoming place where "Grace Happens!"
You are invited to attend Sunday morning worship services at 10:00 a.m. Holy Communion is celebrated every Sunday and all are welcome to participate in this gift of life. Sunday School for Preschool-6th grade students is offered September through May right after worship during coffee and conversation time. 
If you are looking for educational, fellowship, or service opportunities for children, youth, and adults, please browse the additional pages on the website.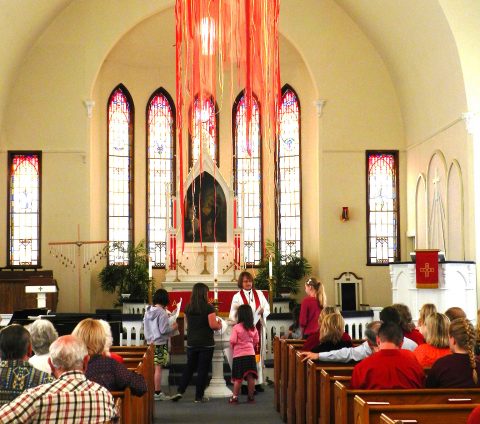 Come and let's grow in faith and love together. God bless you!

We are located at 111 East 4th Street in Aberdeen, Washington. The church is on the corner of 4th and I Streets, one block east of Broadway.


Amazing Grace Lutheran Church of Grays Harbor, ELCA
111 East 4th Street
Aberdeen, WA 98520

phone: 360.532.8250
email: amazing111@comcast.net

AA
November 23, 2019 7:00 PM
Choir practice
November 24, 2019 9:00 AM
Worship
November 24, 2019 10:00 AM
Fellowship time follows the worship service. Sunday School for kids (of all ages!) following worship.
Pie Auction & Potluck
November 24, 2019 11:00 AM
Our annual gathering for good food, fellowship, hilarity and raising some money for property needs is almost here. We'll enjoy potluck together and then our esteemed auctioneer, Gary Morean will kick off the fun! Notice all the silent auction items ready for your bid in the fellowship hall.
Manna & Mercy - Bible Study
November 24, 2019 12:00 PM
'Manna and Mercy' is our guide from Genesis to Revelation. Everyone is invited to be immersed in "God's unfolding promise to mend the entire universe."
Hosting Family Promise Nov. 24-30
November 25, 2019
Manna & Mercy - Bible Study
November 27, 2019 12:00 PM
'Manna and Mercy' is our guide from Genesis to Revelation. Everyone is invited to be immersed in "God's unfolding promise to mend the entire universe."
AA
November 27, 2019 5:30 PM