Welcome to Amazing Grace Lutheran Church of Grays Harbor, Aberdeen, WA
As Covid-19 continues to shape our gatherings we adapt, following recommended guidelines. Everyone is welcome to worship in-person if you have had the full regimen of Covid-19 vaccines. Masks are required.  If you prefer, you are invited to join us in worship on Facebook live at the Amazing Grace Aberdeen Facebook page.
We love God and love our neighbors by guarding everyone's well-being. God is faithful. We have come through the worst of the storm and give thanks for the ways we can resume life together.
Click here for ADVENT DEVOTIONAL pdf.  As our ways of connecting with each other have been limited, we've had to get more creative. So, we're going to reflect on the readings for the season together! You are invited to choose one day's reading (or more) to consider and share that with your family at Amazing Grace. You may choose to focus on one verse, or a phrase or the whole passage. It can be something the passage makes you think of, or feel, or imagine. Your reflection could even be a question the reading raises for you. Be yourself! Be REAL! We are ALL theologians (those who think about God and our relationship with God) so we all have something to share. Your perspective may be just the touch someone else needs to feel God's presence in a new way!
You can work alone or with a partner and of course, children are encouraged to join in the fun! Use your imagination!  You may want to include a short prayer, picture, or poem if they add to the message you want to convey or that could be the whole devotion.
It can be as short as a couple of sentences or as long as a couple of paragraphs. It could be poetry or a picture—a drawing or a photo. We'll compile it all together and make the whole thing available to everyone. It will truly be OURS and help us live into this season more fully as God's people together! 
For the Sunday, October 17th service find the

 

  Bulletin

  

 

here. Daily Bible readings for the week can be found in Taking Faith Home.
Sunday morning worship will be streamed LIVE on Facebook at 10 a.m. each week. Search for the Amazing Grace Lutheran Church,  Aberdeen, WA page. These same videos are viewable on this website as well, posted shortly after the 'live' event.
Worship October 17th, 2021
Worship October 10th, 2021
Worship October 3rd, 2021
Worship September 26th, 2021
Worship September 19, 2021
Worship September 12, 2021 - We apologize for the sound and we're working to improve.
Worship September 5, 2021
Mitzi Ludwig Funeral Service July 10, 2021
Worship videos as far back as March 2020 are viewable on the Amazing Grace Lutheran Church facebook page.  Click here for a link to the page.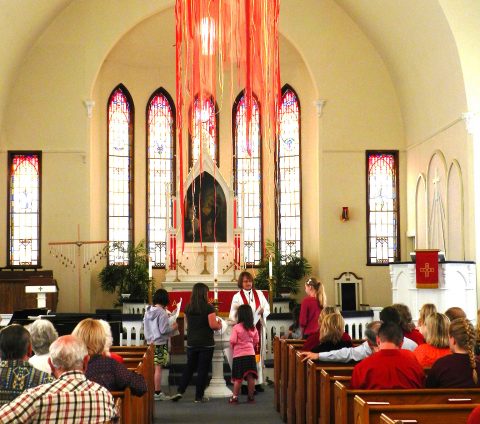 Come and let's grow in faith and love together. God bless you!

We are located at 111 East 4th Street in Aberdeen, Washington. The church is on the corner of 4th and I Streets, one block east of Broadway.


Amazing Grace Lutheran Church of Grays Harbor, ELCA
111 East 4th Street
Aberdeen, WA 98520

phone: 360.532.8250
email: amazing111@comcast.net

Quilters & Maintenance
October 20, 2021 at 9:00 AM
This group lovingly crafts quilts for people in need around the world.
Just Faith
October 20, 2021 at 5:30 PM
In-person and Zoom class options available.
Worship Leaders
October 20, 2021 at 6:00 PM
Thursday Quilters
October 21, 2021 at 9:00 AM
Work on your own quilt projects among friends.
AA
October 23, 2021 at 7:00 PM
Call Suzan for more info 360-249-6986
Worship
October 24, 2021 at 10:00 AM
We are now welcoming everyone to in-person worship. All safety protocols are followed. Our facebook live worship remains available.
ZOOM Sunday School
October 24, 2021 at 12:00 PM
Chaplains Dinner
October 24, 2021 at 4:30 PM
Meal provided for anyone in need by Chaplains on the Harbor.